xWUNG
. Click on the image to play now!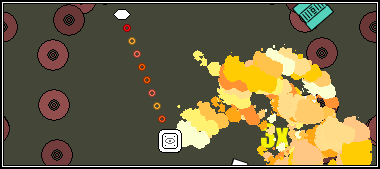 Alternative link
(Kongregate.com)
---
are their anymore flash games your working on?
---
---
I'm really glad you've ported this to Flash. Now I don't have to run Bootcamp to play. I hope this trend continues...
How about Psychosomnium?
---
The rope/line for the white thing is more visible, the powerups are better, background/style is better, explosions are better. Enemy bits don't mix with the background also... All around, a better xWUNG xPERIENCE!
---
So tell me, just what are those little blinking squares that sometimes appear at the edge of the screen? I was too terrified of getting hit when I was getting my high score to experiment.
---
You guys are a real inspiration for me. Keep making awesome experimental games!
---
---